Gutter Cleaning in London Using High-Grade Equipment
Picture your gutter cleaning in London taken care of with no hassle or stress. Imagine a service that's simple to book. That you can rearrange easily. And which comes to you performed by fully insured technicians using the latest equipment.
Housekeeper London is your local choice for high-quality guttering services. The Gutter Vac Clearance tool we use means we'll never need to use ladders near your property. So you can relax while your experts get to work for you.
Get a free quote on your service now. You'll find someone ready and waiting to help you 24 hours a day, every day of the week.
What You Get With This Service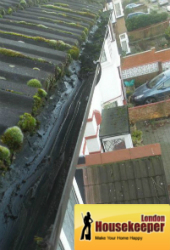 One hassle-free service for cleansing all of your guttering and downpipes above ground level
You can actually see the result. There is a camera attached to our equipment.
No need for ladders or manual methods. The latest high-quality equipment results in a powerful clean
Round-the-clock client service and support. Call to make your booking whenever you have five minutes free
Simple to book. Easy to reschedule. We offer weekend and holiday appointments, and free rescheduling with 48 hours' notice
Brilliant options for window cleaning and gardening services too. Keep all of your property spotless with our money-saving service combinations
Comprehensive insurance cover, quality guarantees, and CRB-checked, professional staff
A free quote is yours anytime you want one. There's no commitment on your part
020 3746 2485 is the number to use to reach our 24/7 phone lines. You can set up an appointment with your London gutter cleaners at any time of the day or night, and it's also quick and simple to do so online via our form for free quotes or the chat facility.
Answers To The Most Frequently Asked Questions
When booking our guttering service in London, our other customers usually ask us questions like:
Q. How exactly does your equipment work?
A. Our Gutter Vac Clearance system is essentially a large, hardened, and more powerful version of the vacuum cleaner you have in your house. Using the system's fitted camera to see what they're doing, your team will use the device's powerful suction to extract all leaves and debris from your guttering, and all downpipes above the ground.
Q. Will it be able to reach my gutters?
A. The system is suitable for properties usually up to four stories high, as the machine's extendable pole stretches up to ten metres in length. As long as we have access to the base of your property, we'll usually be able to reach your roof, unless you're in a high-rise building.
Q. Can you show me the results you've gotten without me needing to climb up there?
No problem. Simply ask one of the team taking care of your work for you for a glance through our system's mounted camera.
But whatever you'd like to know, simply give us a call to get started with your booking or get the information you need at any time.
We provide Gutter Cleaningfor the following areas:

I would like to take this opportunity to say that we have been more than happy with the gardening service you provided for us.
Kellie Rogers
I am very impressed with Anna who is always punctual and extremely thorough in her cleaning. She works solidly throughout her hours, managing to fit in a wide range of different tasks and shows...
Nick Smith (Battersea)
From start to finish they have provided an excellent service. The cleaning has been done to a very high standard and all the tasks I set were completed on time and to my satisfaction.
Kate Bussey (Northcote Road)
Just to say a big thank you to the cleaners that did my house yesterday- it was the best clean ever! They were all lovely helpful professional friendly maids and they did a fantastic job and took...
Miss Stella Bramhall (South Kensington)
The team did far more than I expected, a great performance all round
Mr. Birtles Huntingdon (Hither Green)
Very courteous and polite, an absolute pleasure
Sharples Stafford (Dulwich)