Oven Cleaning in London From Trusted Local Technicians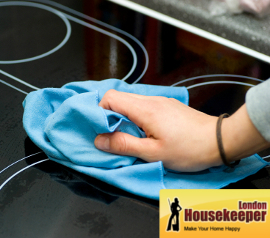 Your oven cleaning in London doesn't have to be a chore. And organising a professional domestic cleaning service doesn't need to be a pain. Picture your appliance restored without any of the usual horrid smells and scrubbing. Imagine a service that you can fit into your timetable without any hassle.
That's what Housekeeper London offers with our kitchen cooker cleaning option. You'll see the technician carefully take your appliance apart in order to get at every corner. He will soak each component individually in a vat of specially selected powerful cleansing solution. After this, everything will be put back together, and your cooker tested. Leaving it free to cook healthy food for you and your family, and to keep your utility bills nice and low.
Ask for a free quote on your total cleanse today. There's no fee or commitment.
The Advantages of Getting Oven Technicians:
Minimal manual scrubbing involved here. We use specialist dip tanks and modern cleansing techniques on your cooker
The technicians use protective sheets so they won't leave a mess after them
You get a FREE teflon liner to protect your oven or BBQ, so it will stay clean for longer
Specially trained cleaners using the latest techniques. Every professional is fully trained and CRB-checked
24-hour customer care and support. Call whenever you've got the free time to make your appointment. We'll be here
Your choice out of a wide range of booking options, including weekends and Bank Holidays. Fit us in whenever you need expert oven cleaners
This service is provided as part of your end of tenancy cleaning, and can be combined with our other professional services for reduced rates
Any pricing information that you might like delivered on request. There's no obligation to requesting your free quote
Fill in our request a free quote form, type into the box of our chat facility, or simply phone 020 3746 2485 at any time of the day or night to make your booking. We're always glad to reschedule your appointment at a later date - as long as we have 2 days' notice. You'll find one of our helpful staff here to take your call 24 hours a day, every day of the week and at the weekend.
Our Oven Cleaning Service Frequently Asked Questions
Check out what the other people who've used our service have asked before they did:
Q. So what's the deal with your dip tank cleansing method then?
A. This is the latest technique used by the best professional oven cleaning companies. It involves the disassembly of the appliance in question, soaking in the tank, wiping clean, and then reassembly and testing afterward. It means there's minimal scrubbing of your cooker involved.
Q. Is this service suitable for commercial appliances too?
A. Very much so. The technique we use is equally useful on larger appliances, and we offer a wide variety of appointment times in order to fit in around your opening hours.
Q. Can you clean this particular type of oven that I have?
A. Almost certainly. We've cleansed all makes and models of appliances in our time, and the team we send to you will undoubtedly have experience with one just like yours.
Got a question that isn't covered here? Give us a call on the number above to have a chat with a friendly adviser at any time.
The Professionals You'll Find at Housekeeper London
Every member of the team that we send to you has been reference-checked and CRB-vetted before we send them to you. This means you'll have a reliable team carrying out your oven cleaning service - they're a team that has been helping local people get these jobs done for the last ten years and more. Always under full insurance cover.

Very happy with the service and we use your regular cleaning service and are happy with that service as well.
Marcus Eldon (Harrow)
The cleaning was extremely well done, everything was on time - the team was there on time, phone calls about when they'll be finished.
Rosanne Laney (Enfield)
I would like to take this opportunity to say that we have been more than happy with the gardening service you provided for us.
Kellie Rogers
I am very impressed with Anna who is always punctual and extremely thorough in her cleaning. She works solidly throughout her hours, managing to fit in a wide range of different tasks and shows...
Nick Smith (Battersea)
From start to finish they have provided an excellent service. The cleaning has been done to a very high standard and all the tasks I set were completed on time and to my satisfaction.
Kate Bussey (Northcote Road)
Just to say a big thank you to the cleaners that did my house yesterday- it was the best clean ever! They were all lovely helpful professional friendly maids and they did a fantastic job and took...
Miss Stella Bramhall (South Kensington)